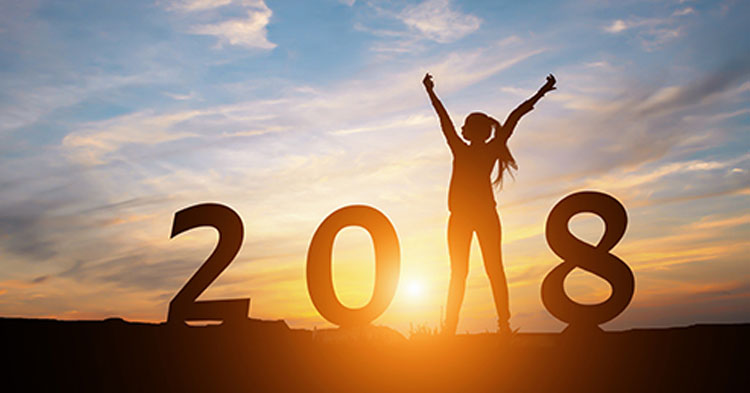 New year, new you – make 2018 the best financial year yet
New Year's resolutions are so last year… Let's face it, most people don't stick to them anyway.  Which is why we have resolved to not set ourselves up for failure with grand (almost insurmountable) resolutions this year.  Instead, we're dishing out handy (simple and do-able) tips to make 2018 your best financial year yet.
1)      Review 2017's spending habits
Spend some time working through your 2017 financial statements. Have a look at how and when you spent your money and consider your income to spending ratio.  Are you spending more on spontaneous shopping sprees than on your retirement savings? Or perhaps you are spending a fortune on take-outs instead of simply eating in? Whatever your spending habits, we're betting that there's room to streamline them.
One interesting exercise to consider would be to identify the three purchases that you felt the best about over the course of the year. Then, look for the three that you regret the most (or feel the worst about).  This will help you make more informed buying decisions in 2018.
While you are at it, double check your bank accounts for any unnecessary debits such as unused subscriptions that have automatically renewed. After all, a penny saved is a penny earned…
2)      Remind yourself of your financial priorities
With all the hustle and bustle of the New Year and the excitement and possibilities associated with a fresh start, it is easy to lose track of your financial priorities. That's why it is a good idea to recap on what your top financial priorities are for 2018.
If you are setting new financial goals, remember to make them "SMART" goals.
S = Specific goals
M = Measurable goals
A = Attainable goals
R = Realistic goals
T = Timely goals
Creating goals that comply with the "SMART" requirements will help you evaluate your progress and stay on track (instead of constantly procrastinating) because they are both well-defined and have a pre-determined deadline.
3)      Make the most of your benefits
A good way to redirect your funds into your financial priorities for 2018 is by making the most of your loyalty programme and workplace benefits.
Start by refamiliarising yourself with the added value and special deals offered by the loyalty programme(s) that you belong to. Besides discounted deals and member-only options, some loyalty programmes even offer free parking at popular shopping centres – a great way to save some cash on the side.
While you are at it, book a brief meeting with your HR representative to recap on the employee benefits at your disposal. Many companies have extensive wellness programmes with some even giving you free access to specialists (such as psychologists and trauma councillors).
Armed with an understanding of how to leverage these benefits to the max, you'll be able to minimise unnecessary spending even further.
4)      Consider doing something different to what you're used to
Einstein said: "insanity is doing something over and over and expecting different results". So if what you have been doing year after year has not been yielding the desired results why not try something new?  Like getting a life coach or mentor to help you identify ways to attain your goals and live your dreams.
Have a look at your immediate network. Is there anyone who stands out as ultra-successful; someone who you would like to model yourself on? Why not ask that person to be your mentor or give you advice?
Before you approach the potential mentor, remember to take some time to identify exactly what your expectations are. This will enable you to give your potential mentor an idea of how much time you would need from them, how often you would like to see them, what kind of guidance you would be seeking and, ultimately, what you'd be hoping to achieve.
Is approaching a mentor a bit too nerve wrecking for you?  Why not start by seeing a life coach first?  This may help you identify which areas of your life you would like to develop as well as how to go about doing so. All it takes is a quick Google search and booking your first appointment.
They say that if you want something that you have never had, then you need to do something that you have never done. Trying out these four tips is bound to not only help you gain perspective of your current and desired financial situation, but also identify ways in which you can make 2018 your best financial year yet.
MoneyShop
MoneyShop is SA's largest loan and insurance finding service, helping over 200,000 clients per month. Using artificial intelligence, we match the right lending, insurance and investment products to the right people at the right time.